Now hiring experienced drivers, mechanics and laborers! If interested, please contact at [email protected]
Porta John Services & Rentals in Marietta, OH
For more than 25 years, Ron's Porta Johns, Inc. has been a top provider of porta john services in the Marietta, Washington County, and Devola, OH ara, along with Williamstown, and Parkersburg, WV area. We sell many products to fit your portable plumbing and septic service needs, all at reasonable prices. Call us today and receive quality service in no time.
Premier Toilet Services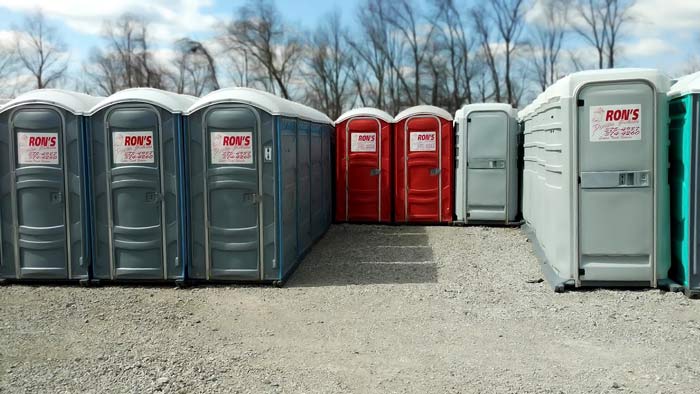 If you need a porta john for your next event in the Marietta area, Ron's Porta Johns, Inc. is here to help. We've provided porta john services near Marietta, OH, for more than 25 years. Whether you're working at organizing a local fair or a construction site, portable plumbing is a necessity for many occasions. Looking for portable plumbing alternatives for sinks, toilets and showers? We can do that too! If your septic tank isn't cooperating with you, we can even fix it for you, too! We are your one-stop shop for all portable toilet rentals and septic needs.
Porta johns are not complete without handwash stations. Luckily, you can get them through us to make sure guests at your event feel clean and sanitary. We're a one-stop shop for more than just Porta Jons in Marietta, OH. Our shop also provides storage containers to store your rented equipment. We flush and repair septic tanks, but we also sell products to clean them. If your septic tank is experiencing minor problems, our products may be able to help fix the issues and save you money. We serve communities up to 90 miles away from Marietta, and we're ready to assist you in any way we can.
We're a family-owned business with more than 25 years of experience.
Our staff is friendly and professional.
We offer customers a variety of porta johns, including handicap-accessible units.
You will always receive quality service from us, at a fair price.
We clean and repair septic tanks to the fullest levels of quality.
We have our own EPA-approved treatment facility and disposal site.
Proudly offering porta johns and septic work in Marietta, OH and surrounding areas, including:
Athens County, OH
Guernsey County, OH
Wood County, WV
Jackson County, WV
Wirt County, WV
Meigs County, OH
Monroe County, OH
Pleasants County, WV
Tyler County, WV
Marshall County, WV
Morgan County, OH
Noble County, OH
Wetzel County, WV
Doddridge County, WV
Ritchie County, WV
Get Your Porta Jons Now
We've got your portable john needs covered for weddings, fairs and more. Call or visit us today to learn more about pricing and terms.
Contact Us